By JOHNETTE RODRIGUEZ  |  January 23, 2013
Read more: http://providence.thephoenix.com/arts/150600-hester-kaplans-the-tell-is-captivating/#ixzz3pWqNnA77
In her first novel in 10 years, The Tell (Harper Perennial), Providence writer and educator Hester Kaplan tackles the familiar territory of marriage and relationships she has previously
explored in the award-winning short story collection, The Edge of Marriage (1999), and her novel, Kinship Theory (2001). Kaplan expertly delves into the psychological underpinnings of her characters, and in The Tell her curiosity extends to many other topics: the fleeting nature of celebrity, the addictive pull of slot machines, the intensity and frustrations of inner-city teaching, and the effect of the architectural details in buildings upon those who live and work in them.
The novel is played out among a trio of characters that sometimes becomes a quartet. Owen and Mira live in a rambling East Side Victorian, and they befriend their new neighbor Wilton https://www.acheterviagrafr24.com/achat-viagra-en-ligne-en-france/ Deere, a wealthy has-been sitcom actor who has moved to Rhode Island to be closer to his daughter Anya, who is attending medical school at Brown. He hasn't seen Anya since she was five, but he's desperate to make amends to her while never revealing why he wouldn't see her for more than 17 years.
Owen teaches at a public high school that is on the verge of being closed; Mira has set up an art school in the Jewelry District for underprivileged youth and senior citizens. Both she and Owen remember Wilton from his sitcom and its reruns, and they are quickly seduced by his gifts of wine and mail-order steaks but even more by his ability to secure their confidences, one-on-one, and sometimes to use those bits of intimate knowledge to leverage an even tighter connection to one or the other of them.
In fact, though the title of the novel most obviously refers to a mannerism or gesture that gives away a person's mood or meaning, even when they are trying to hide it, as in a poker game or a
police interrogation, Kaplan also quite cleverly uses that meaning through the twists and turns of the plot. She has Owen, Mira, and Wilton "telling" each other things from their pasts, as well as the feelings they have held onto surrounding certain pivotal events, and those "tells" disrupt Owen and Mira's relationship. Toward the end of the novel, Owen even blames himself for Wilton's disappearance because of lying to him about telling Anya something that Wilton had confided to him.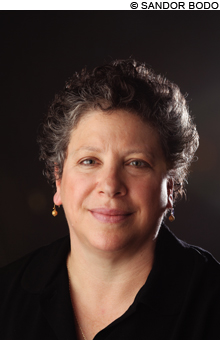 THE AUTHOR examines unresolved emotions and past tragedies.
Though the reader knows that eventually everyone will have to "come clean" to each other and to themselves, Kaplan makes the reader's journey to that point worth every page. The Tell is filled with captivating subplots, with well-drawn supporting roles, including Owen's father and his new girlfriend, Owen's students and Mira's assistant, a friend of Owen's who runs a tutoring business, the high school librarian and her husband, and various "types" who show up at a fundraiser for Mira's art school.
The buildings become additional characters, as Kaplan describes the nooks and crannies, the fusty furnishings, the looming portraits in Mira's inherited family home; the bare wood walls with their unframed snapshot pin-ups in Edward's Cape Cod cottage; the heraldic arches in the decaying high school.
Her language throughout is a cornucopia for the senses, especially scents, aromas, and stenches, not just of almond soap on skin or "mulchy" lentil stew, but smells of disappointment, ambition, or "the best intentions." Similes and metaphors take http://www.cialisgeneriquefr24.com/tadalafil-troche-dosage/ unexpected curves; though they are occasionally interruptive, they are mostly spot-on: i.e., the librarian's Rhode Island accent was like "bright melted plastic."
Kaplan also hits the mark with her pithy asides about Providence: "a place that was proudly peculiar and proudly backward" and "without pretension but full of self-importance"; her settings in Fox Point, the East Side, and across the Point St. Bridge are evocative.
The Tell is an exceptionally good read for all of the above, plus Kaplan's skill at creating suspense for each of her main characters; her insightful look at the subtle balance between privacy and sharing in marriage; and her thoughtful examination of unresolved emotions around past tragedies. That she provokes us to ponder the latter two in our own lives is a true mark of the author's success.
HESTER KAPLAN | East Providence Public Library, 41 Grove Ave | January 28 @ 7 pm | Free | 401.434.2453 | eplib.org + Books On the Square, 471 Angell St, Providence | February 2 @ 4 pm | Free | 401.331.9097 | booksq.com